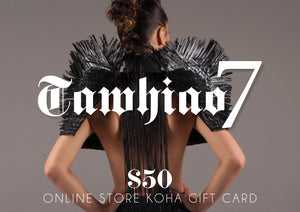 Tawhiao7 Online Store Koha — $50 Gift Card
Tawhiao7 online gift cards available now.
Gift cards are digital vouchers that are emailed to purchaser.
Gift cards are not hard copy vouchers.
Not redeemable for cash.
Not redeemable to purchase gift cards.
This voucher is valid until six months from the date of issuance.
Not valid with any other offer or discount.
Valid for a single transaction only.
No credit or change will be given on the unused portion of the voucher.